(Sorry, had to. ~L)
"If you are reading this, you have survived your entire life up until this point.  You have survived traumas, heartbreak, devastation, shattering joy, plundering love and the terrible beauty of life.  And here you are.  You go, Motherflower.  You're awesome."  (Keep going! Sanitized by ~L)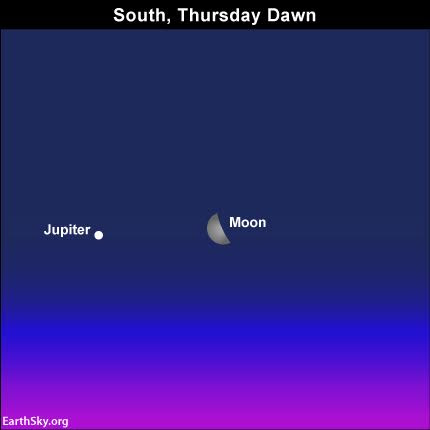 "Life is indeed dangerous, but not in the way morality would have us believe.  It is indeed unmanageable, but its essence is not a battle.  It is unmanageable because it is a romance and its essence is romantic beauty."  EM Forster Howard's End  (Rx: Tell this to the inner critic 3 times daily with food. ~L)
"This waning cycle brings changes within our relationship with self and others. The mental body shifts and an increased capacity to connect to spirit arrives. Use challenges as reminders to make necessary changes."~swatijrjyotish.com
http://www.swatijrjyotish.com/ blogs–articles/sensitivity- tend-to-your-sacredness
Tonight for December 2, 2015
Courtesy U.S. Naval Observatory
"Tomorrow morning – December 3, 2015 – you can see the moon and the king planet Jupiter quite close together on the great dome of sky. Watch for these two worlds no matter where you live on Earth. They're up in the wee hours, higher in the sky before dawn. Just look for the brilliant star-like object (but stars twinkle, planets shine ~L) close to the moon in the predawn sky on December 3, and sure enough, that'll be the giant planet Jupiter.
For illustrative purposes the moon appears larger than it does in the actual sky. The green line depicts the ecliptic – the sun's apparent pathway in front of the backdrop stars.
Later on in the first week of December, 2015, the waning crescent moon will swing by the red planet Mars and then Venus."  ~earthsky.org
"This Week's Intention: Let your inner waters create and flow, move and transform. Find ways to land and ground, while reaching up and out- extending your reach. Seek harmony, integration and balance for your four bodies- physical, mental, emotional and spiritual.
Moon is waning, Venus has just moved to its own sign, Libra, yet the tenacity of Mars and Rahu in Virgo continues. The Saturn, Sun and Mercury conjunction continues to play out until Saturday when Mercury shifts to Sagittarius. Movement, fluidity, creativity and relationships invite in change and transformation. " ~Swatijrjyotish.com 
"Certain challenges will continue for the mind in this cycle to come if you resist surrender and awakening to your deeper purpose and meaning. If you force outcomes or objectives, there will be intensification. When ego gets in the way of your awakening process, there will be frustrations, obstacles and excess inner heat. Notice when the fire is scorching you. Where can you let go and let spirit guide you?"~swatijrjyotish.com
"Creativity is at an all-time high, with maximum flow and fluidity moving through the hands. Intentionally channel this creative life force energy through the arts, music, writing and co-creation. Courageously step into community, relationship and support systems that nourish and increase a sense of safety and support within. Seek balance with inner and outer and express your needs clearly.
Moon moves to the final nakshatra of Virgo, Chitra, just as Sunday morning begins.
Midmorning Monday, Moon moves to Swati nakshatra and joins Venus in exact conjunction."~swatijrjyotish.com
(A last splash of inspirartion.  Here is a woman whose inner critic became a legion of friends and fans.  Not holding her up as perfect, but she is a perfect example of assured self-reference and balanced inner dialogue when dealing with fear. ~L) 
Danielle Orner
Writer, Actress, Motivational Speaker, Yogi, Vegan, Cancer Survivor, Amputee
About Me Diagnosed with bone cancer at age 15, I spent a decade getting scans, surgeries, and chemotherapy treatments. Three years ago, I decided to take an active role in my own health. I quit chemotherapy and started researching anti-cancer lifestyles. Now, I eat a vegan diet, practice yoga, pursue my dreams, and honor that little voice inside me that tells me to do impossible things. Currently, I get scans every six months to check that I am still cancer-free. I don't wait for those verdicts to tell me when I can start living. I'm too busy making my impossible things possible. Visit me on Twitter, Facebook , and YouTube.
(I think my inner critic and Dani's inner critic should get together for a frank discussion being about what is possible!!! More about the inner critic in class tomorrow and Saturday. ~L)
~L