"This is an important week for landing and grounding within.
 With the holidays, a full Moon, and three transits behind us, let the dust settle in the coming days."~SwatiJyotishJr.com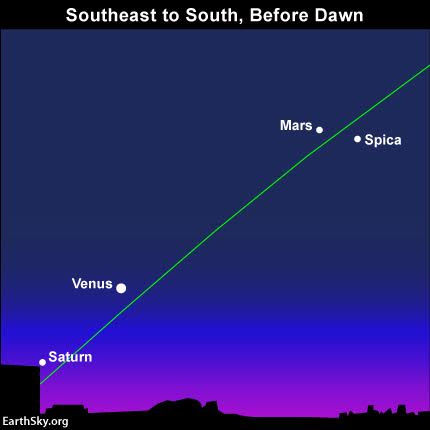 There are four planets in the morning sky now. Venus and Saturn aren't far from the sunrise point on the horizon. Mars is to the south before dawn (or north if you're in the Southern Hemisphere). Brilliant Jupiter shines near Mars and Spica, outside this chart. Soon, Mercury will come back to the predawn sky, and then 
5 planets will be visible simultaneously.
~earthsky.org
an excellent article by Fred Espenak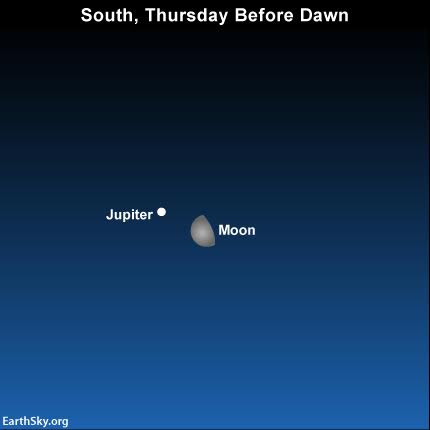 "Find ways to intentionally honor your body, mind, emotions and spirit- using self care practices, healthy boundaries and a dose of celebration!" ~swatijrjyotish.com
(At last she has something somewhat sorta happy to impart! Giggle.
And then there was this:~L)
*** Remember that this is the last week my transit reports, calendars and special articles will be available without a membership to my site. ****All content on this website is sole property of Swati Jr Jyotish unless otherwise noted and may not be reproduced without permission or consent. "  THIS IS NEW.  Of course it will be respected.  Also, here's to Swati, for giving us our Jyotish jumpstart! HUZZAH!~L)
See brightest star Sirius at midnight on New Year's Eve
Sirius might also be called the New Year's star. It reaches its highest point in the sky around midnight on New Year's Eve.

~earthsky.org
To sum up what Swati gave us: for Wednesday the moon moves into a sensual and attractive star.  There's a lot of Shakti, or life force, creative fruit or offering.  The symbol is the right hand.  Thursday is the left hand: supporting the personal vision (remember?) with sustained receiving.  All nourishment starts within, she says. ~L
"Friday the moon moves to a star that governs the fingers.  Be aware of what you are sensing, grasping, releasing or emoting.  Land in your feels.  They are really reals.
Creativity from both hands and all the digits come on Saturday, so get creative!  Shape that clay!  Paint, write, sing, dance and create beauty!  Put your art pedal to the metal!!!
Because if you skip that opportunity, just before midnight, the moon's move into Libra may yield passionate anger.  Get your creative channel in place in case you need it.
Here's where we can really put our experience of Vedic astrology to the test: Sunday is supposed to be LIT UP with this passionate anger, with relationships as the focus.  Just notice what is going on, with out buying into it.  Then we can compare notes later.
Momentum is supposed to arrive Monday. By late afternoon, we may realize there are more options than we thought."
 All credit to SwatiJyotishJr.com
"This particular moon phase primarily affects our interpersonal relationships. All of the Libra transits this autumn were pretty brutal in this respect. So here she is again, reminding us right at the New Year just how important it is to be honest with the Self and others. Libra is a sneaky goddess! Just when you think she's left you to your own devices, SLAM, suddenly you're neck-deep in something truly challenging. A big secret to winning Libra's game is 
listening to our intuition
. When relationships blow up, it's never really out of the blue, is it? 

Everything churning in your psyche is just waiting to burst forth in an explosion of catharsis and truth. Holding a lid on this is like running from the wind: futile and exhausting. If you resist these inevitable changes, I expect that this transit will be difficult for you. However, this phase may manifest as over-compromise, bordering on unnecessary sacrifice. Libra can be so afraid of offending others that she will readily agree with everyone. When imbalanced, we might be too submissive or insecure, clinging to pleasantness and apparent stability in order to avoid opposition.
At this time the pull towards peace speaks to the heart while focusing on personal needs will feel more like a duty."  
All credit to 
www.astroyogalove.com
Click the link below to get to Ren Tvedten's site.  Can't recommend her enough!!!  She also wants us to TAKE OUR TIME in this lunar transit.  Libra does not like the rushing.
Welcome to AstroYoga!
My name is Ren Tvedten, 200-Hour certified instructor through Be the Love Registered Yoga School in Petoskey, MI and certified Reiki practitioner. My services include private and group yoga sessions (with or without astrological elements), Reiki energy healing and astrological readings. I currently teach yoga classes at Inner Harmony yoga studio in downtown Missoula, Montana.
This is Ren.  Go to astroyogalove.com
There is no class tomorrow, Thursday 31 December.  But you can bet your boots we will be doing some Libra Yoga and some creative mudra work on Saturday 2 January at 10:45am.  See you if it serves you.
~L  
Third quarter and last quarter are the same thing.  Please do this with your kids.