You know what this 
 means?  Good things! ~L
Link: http://earthsky.org/tonight/moon-and-mars-at-nightfall-december-4?utm_campaign=shareaholic&utm_medium=email_this&utm_source=email
Use the moon to find Mars this evening. Bright Venus is nearby. Then watch day by day, as the gap on our sky's dome between Mars and Venus shrinks.

Shared via Shareaholic (My name is Lynn (Hi Lynn!) and I have been a Shareaholic for 45 years.)
When the lovers of the Zodiac meet in the sky, there is a soothing, calming influence.  Even the Army Corps of Engineers can come to their senses!  (Whew!  That was a close one, huh?)  LOVE NEVER DIES.  LOVE ALWAYS WINS.  (No Absolutes. ~L "I contradict myself?  I contradict myself!"~Walt Whitman)
The moon is at the center of all of this: first caught between the pull of Mars to Venus and then awash in the depths of Neptune all against the Aquarian backdrop.  Find the others and LOVE THEM.  (What means, love them?  Drop your awareness into the heart and OPEN the door to peace within.)   Throw the Mercury alignment into it and it says "find the other and TALK with them".  Pretty cool, yo?~L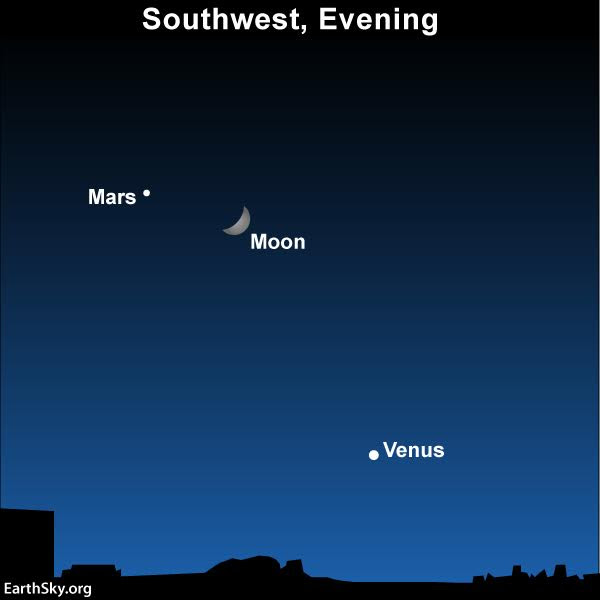 "Venus is in Capricorn from November 11-December 7.
Venus is in Aquarius from December 7-January 3. We move towards unconventionality, independence, and freedom as themes in our social relationships under this influence. Aquarius can be just as faithful as Capricorn, but it has to be on his own terms! Experimental relationships are more intriguing now. Being friends as well as lovers is important to us during this cycle. Allowing one another freedom of expression, and treating others fairly, unselfishly, and impartially, are themes now.
Mars is in Aquarius from November 9-December 19. Dynamic yet erratic energy levels, achieving our goals through hit-or-miss tactics, and impersonal expression of anger are characteristics of Mars in Aquarius. We are team players–cooperative and less concerned about personal power. We are attracted to unconventional methods and tend to approach problems from an intellectual, detached perspective.
Venus, the Goddess of Love: Highlights in the Coming Week:
Venus in Capricorn Marry for money and then learn to love 'em: that's what your heart tells you now, as a new cycle gets underway in your life. Does that sound cynical? Maybe so – but it does reflect the yearning you feel for security and stability now, and it suggests the kind of compromises you may be willing to make to accomplish these objectives.
Venus in Aquarius A love for the unusual, a distaste for stodgy old rules and conventions, a feeling that you're above the petty bourgeois stuff and nonsense: that's what a new cycle brings into your life now. ("I love humanity; it's people I can't stand!") Unconventional romantic and social connections are likely at a time like this.
Venus semi-square Neptune December  Romantic confusion as well as relationship ups and downs. Self-deception may come to light now.
Venus parallel the Sun December 5-6. A strong desire for harmony and comfort fill us now. We may be moved to express our affections.
Venus parallel Saturn December 9-10. We may express our affection sparingly, but also responsibly and in practical ways. Relationships begun under this influence often feel burdensome over time, but they may last longer than most.
Venus semi-square Saturn December 10. Feelings of isolation, of not getting what we really want, and of not being loved the way we want to be loved can get in the way of pleasant relations with our partners.
Venus parallel Pluto December 10-11. The desire for drama and intensity in relationships is with us. Love feelings and relationship issues can be all-consuming now, assuming more importance in our lives than usual. Interactions with others are intense now, and themes of sharing and trust dominate in relationships.
Venus semi-square Chiron Deccember 11-12. Love cannot be forced. This is not a commitment-friendly transit, as we may feel alienated for no apparent reason and unwilling to give of ourselves." ~cafeastrology.com
This looping animation shows a simulated two-degree-wide field of view (approximately 25x magnification) displaying the Moon's motion relative to Neptune from 9pm to 10:30pm GMT at ten-minute intervals on Tuesday 6 December 2016 as seen from the heart of the British Isles.
Moon in Aquarius on Sunday & Monday will get the FLOW of energy going through you – by unblocking any blockage – to ensure you wake-up and communicate – indeed – the breakthrough will be surprising and unexpected for some of you – because you never expected to see what's about to happen – and that's when your aura will have a breakthrough.
 Then all the people who are ALIVE and DESTINED to be in your life – as you 're destined to be in their lives – will be communicating and talking, laughing and giggling as everyone shares the GOOD vibes and GOOD news with each other.
 "I'm sure you "know" yourself that when you're excited about something good that's happened to you – you come alive – full of excitement means you will automatically SHARE your positive vibes with others – because positive energy is an OPEN energy it can't be kept locked-away.
 The SHOCK and unexpected surprise will be WHAT and WHO it is that is the liberating Aquarian catalyst to OPEN you up and make you come alive – with an excitement to TALK and COMMUNICATE. And the fact that it's Sun in Sagittarius [Fire Sign] means once your aura has had the positive breakthrough – then this is it forever – there's no keeping you quiet – at least for the next 3-4 months !
 The strongest aspect during Moon in Aquarius will be Moon 19° Aquarius conjunct Mars 19° Aquarius on Monday this will be exceedingly 100% clear to you – what and who is the source of your destined and essential life-source – the facet of your life that you NEED in order to live and exist – which indeed as defined by Mars is MONEY and success which ensures you can live.
Monday 5th December 2016
Moon 17° Aquarius trines Jupiter 17° Libra
Moon 18° Aquarius sextiles Saturn 18° Sagittarius
Moon 19° Aquarius conjunct Mars 19° Aquarius
Moon 20° Aquarius sextiles Uranus [retrograde] 20° Aries
 Tuesday 6th December 2016
Moon enters Pisces – 4am UK – 5am Europe – 9:30am India
[Monday 11pm USA EST] – 2pm Sydney, Australia"
OK Yoganauts!
Sometimes I am not sure why all this stargazing is so important to me, but it is and I truly hope you find it meaningful in your life, too.  I'm in a car 2 nights ago in the Czech city of Brno an amazing person.  She is a young Moravian (23-25?) and has graciously invited me to share her flat (all newly renovated–and SHE hasn't even moved in yet) and EVERYWHERE we turn while we run our errands in her brand new car we see this:
The moon and Venus like a massive exclamation mark in the sky. (It is upside down as I write, hope it straightens itself out.)
Now, I told you that I felt the Trinity TESOL Certificate was hard to attain.  The woman I am with, Anna, got the same certificate in her SECOND language (English).  She thinks we make a good team (we helped each other a lot in class) and has supported my every move here.  I moved in to her and her boyfriend's flat on Friday and have been trying to figure out buses, trams, interviews with International companies and generally life in Europe for 2 days.
  I don't have a conclusion to draw from all of this except to say that since I leapt from the arms of a more secure and rather complacent future the universe has pretty much showered kindnesses on me and shown me things I could only imagine.  I'm not saying this is for everyone, but if you haven't already (and I know most of you have) you might like radically embodying the human experience and doing something you always wanted to try.  Just saying, yo.
One thing I wanted to mention, I looked and looked for astrology on what these lunar line-ups mean I found precious little, Vedic or Tropical.  There was some information from the Chaldean, or ancient Hebrew astrology . . . I included one passage above.  Interesting, yo?  Anyway, thanks for humoring me.  I needed a break from trying to create a life plan in the spin cycle of the washing machine!
"Observing Sun and Moons movement from Earth is straight forward, because we are dealing with bilateral movement of two objects (Sun-Earth, Moon-Earth). But when dealing with Mecury, Venus, Mars, Jupiter and Venus, we are observing the movement of two objects (eg Mercury revolving around Sun) from a third object which is Earth, hence the complexity of calculations increases, since for calculating the movement of Mercury(as seen from earth), the movement of earth should also be taken into consideration. Our Astrologers have mastered all these movements and were able to calculate the position of planets as seen from earth for any point of time in past, present and future. How were they able to do this, without a telescope or any other equipment, is it possible without deep understanding of the Solar system? Whether to call it mystic science or divine knowledge is up to you.– Written by Saravana Kumar G"  ~
https://innovativeastrosolutions.wordpress.com
Mind your heart,