Look, Yoganauts, I know you have been lied to.  A LOT.  I know the New Age is just as guilty as Catholicism is just as guilty as the media, as I am and just as guilty as you are.  Here's the deal: if you buy into the idea that we are all one (whether you come by it spiritually or scientifically) then the logical extension is that we will feel each other's bliss and each others pain.
We are processing each others' emotions.  It's not personal.
It's the Capricorn~Cancer Axis.
Seriousness meets emotion.
Wise and practical male energy meets mama bear lunacy.
Defacto god~godess projections and expectations meet the cold, stark, light of day.
It's also NOT logic.  It IS emotional.  So it doesn't follow laws or rules.  It does whatever the hell true, raw emotion does. IT's information, coming to us, THROUGH us.  So it has it's own credibility.  It's emotionally sovereign.  It has it's own emotional authority.   And we all know what the mystical symbol for emotion is, now don't we . . .
And from her, we get the word "Lunatic".
And what's more, the mystical tradition tells us that the only way healing ACTUALLY occurs is if I actually ALLOW the feeling.
That's right, I have to actually FEEL the FEELS for the HEAL to be REAL.
And here's the kicker: it isn't mental.  It won't make sense sometimes, how you feel won't stand up to reason.  FEEL IT ANYWAY.  Nature is impersonal in emotional distribution.  It has energy that it needs to process and (we hope) transmute.  So, sometimes it is unfair.  Sometimes you are the best vessel to ground some awkward energy.  That's all.
Feel your way through.
Vajdahunyad Castle in Budapest
However, we do need to consider what happens emotionally on this planet when there is genocide.  We do need to acknowledge the emotional reality, even if it is not logical.  Some of you may be feeling this present moment pretty deeply, if you are not, please don't judge your emotional response compared to others'.  This tightening of the gyre, this passage through the darkest night is what magnificent vessels are built for: to hold and contain the sacred substance of an emerging Universe.  Hold fast, Yoganauts.  Hold the line.  Feel it fully.  It has never before been here.  Feel it pass.  Even this will change.
Brno by night.  Goddess on top.
"The patriarchy is the 6,000 year birth canal of the great mother Goddess." ~Richard Tarnas
"Nothin's easy."~Jethro Tull
The final note I'd like to play as our Vedic Lunar Yoga concerto approaches it's final written draft (note: I did not say first performance) is that I cannot underestimate the importance of knowing how I personally feel and doing all I can to stay open in my heart and mind.  I cannot know how I help others and the planet by maintaining my vibe.  Self care, rest and gentle introspection are the order of the day.  Even and especially in these times.  The more compassion I can embody, the more I can be kind, the more people, places and things and can love and bless the more I bring the needed energies to this place.
I have to remember this is a birth of a thing never before seen.
No one knows what it will look like.
I must keep my personal vision of a loving, just, peaceful, gentle world alive.
Only I know what that looks like.  Only I know what it takes to keep that portal open.
And holy hell, Yoganauts, I must hold that portal open.
Brno by night
It's important to remind myself that I am a portal.  What is being born is coming to me, THROUGH me.  Like any birthing mother MUST know the dangers of birth and be careful to watch for signs, it is also important to remind myself that this process is safe (on some level that reassures me–so I go through, not back) and that I was built for this passage.
I cannot rely on others (not my family, my job, my city, my government–not anyone) to hold the portal open for me.
Others can help, but their help is not compulsory.  Others CANNOT be allowed to hurt.  Not this time, not at this birth.  Too much is at stake.  If that sentence speaks to you please take it into consideration.  Others may be telling you that self-care and elimination of dangers is selfish at this time.  Please find your own truth in that.  Check in with that part of you that senses something coming.  Ask it what it wants.  What do YOU want?
Will you make a tomb out of this tunnel?
And the final, final note of recent music I want to try and play for you?  It's not my job to figure out how all of this works and what pieces need to come together or develop some twisted strategy.  My job is to just keep hammering on the love pedal, the art pedal, the acceptance pedal at every opportunity.  Because I have an opportunity to do my job and CHOOSE.  My job is to make a choice about how I feel.  I can't let my 3 year old self run the show.  My job is achievable, based in reality and uber practical.  BUT IT IS NOWHERE NEAR EASY.
I have to make conscious choices. Every time.   
Mercury Retrogrades in Sagittarius and its polarity is Gemini.
So "the truth" confronts "the facts".  The veil lifts and lowers.  The "real world" is becoming more and more the "surreal world".  If reality is up for grabs, this review could be really helpful.  Welcome the chance to revisit, revise any resource or financial goal and make peace with what you reasonably can achieve, in light of was emotionally decided or chosen in fear.  Let go of unreal expectations of others.  Distortions abound.  Viveka, viveka, viveka, yo.
Join me in this cooperation, at my gracious Czech hosts would say.
Oh yeah, and the nodes are back in Virgo (N) and Picses (S).
"No, no, no to boo, hoo, hoo."~ Mama Maga of Karma2dharmaastrology.com
Yep, it's the September eclipses all over again.
September full moon over Brno.
"We approach the 
Solstice
 on the 21st, one of the most spiritual times of year, 
Mars in Pisces
 brings other intentions to hand: seeding acts of compassion; inspiring us to put aside our own needs in order to aid our fellow man; and opening our hearts to the collective. At this time we may see the wisdom of going into retreat, slowing down, conserving our energy and working on things from behind the scenes, rather than broaching a direct confrontation."~
astrologybylauren.com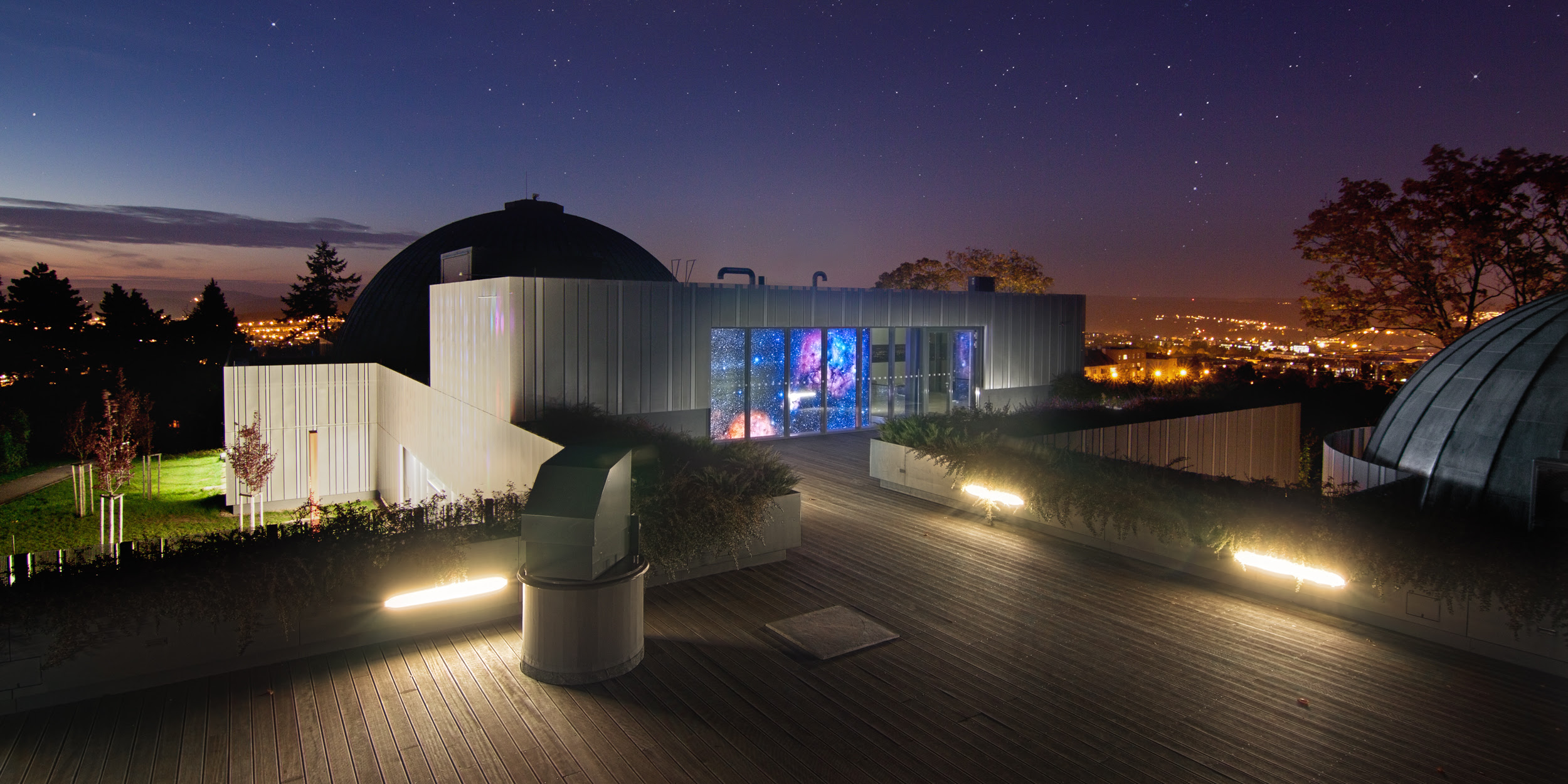 Brno observatory and planetarium.
"The Galactic Center is a supermassive black hole at the heart of the Milky Way Galaxy. It is a place of incredible energy, pushing and pulling us towards experiences that will make us grow. Sometimes these are pleasurable, and sometimes they´re painful. The Galactic Center attains heightened importance in 2017 as Saturn will go retrograde precisely at this point. February-May and November-December 2017 is when Saturn approaches the G.C. before ending its transit through Sagittarius.
The information you receive now as the Sun prepares to conjunct this point in the sky will absolutely set the tone for what you do throughout 2017!!!"
This astrological – and – oracular prime-time. Reach out to teachers, guides, astrologers, facilitators you trust.
Sun (26 Sagittarius) conjunct Pholus-and-the-Galactic Center (27 Sagittarius): We´ve talked a little about the GC, so I´ll focus on Pholus. This asteroid relates to the energy of awakening, of the bottle that is suddenly uncorked – and out pops the genie! The information revealed often leads to breakthroughs in generational healing.
Other Resources for more info on this centaur planet (more gateways for knowledge):
Mary Plumb – http://mountainastrologer.com/tma/nessus-and-pholus
We´ve also got Saturn (19 Sagittarius) trined Uranus (20 Aries). The next 12 days are going to see this energy bring even more insights into our consciousness, especially around the tail end of December / New Year´s Eve. Uranus will station direct on December 29/30 (depending on where you are in the world) – that brings a change in the nature of how we awaken and carry forth that energy in the world. If you´ve got bodies near 20-21 Leo – this will be a phenomenal Grand Fire Trine for you. Meeeow! Talk about astro-dynamite. (And again – you´re going to be working on these insights throughout 2017 … )"
~ Dr Bairavee Balasubramaniam PhD
Post © Bairavee Balasubramaniam, 2016. All rights reserved.
Trento at the Solstice.
Ugh.  Yoganauts.  That is all I have.  I am just spent.  I have finally collected and submitted all the forms for my work visa.  One of my Polish classmates has invited me to spend the holidays with her family in Trento, Italy.  (I am incredibly fortunate in all my friends–please count yourself among them)  Then I go back to Prague to meet with the woman helping me with my visa ("say this, not that–be a little less American, please") and then to the Czech embassy in Berlin.  I found a flat I hope to afford and 3 jobs.
I am frightened and exhilarated and . . . starting to recognize a polarity when I see one.
Everything I need comes to me when I need it.
I am always free to seek a better feeling thought.  I know more emotional shocks are coming, but I do have a measure of control of the thoughts I surround them with.
Security is inside me, not outside.
I will mind my heart.
Miss you,
~L